In the experience of Nancy Cavey, Florida Long Term Disability benefits denied attorney, many long term disability claims are denied unnecessarily.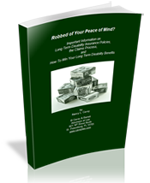 She has written the go to book: Robbed of Your Peace of Mind that contains valuable information on how to understand your long term disability policy, filing your claim "right" for the first time, and what you need to do if your long term disability claim is wrongfully denied. Each year, millions of dollars in long term disability benefits are denied. Long term disability applicants don't understand the long term disability claims process and what they need to do to get the long term disability benefits they rightly deserve.
To order your no obligation copy of Robbed for Your Peace of Mind contact the law office of Cavey and Barrett at 727-894-3188, or fill out the form on the right side of this page. We will rush you the book as soon as possible.